Treat someone to a top notch Lincoln Afternoon Tea service
Published on 2015-04-28
Do you fancy being served afternoon tea like the Lord or Lady of the manor? Ever since former wealthy patrons of Washingborough Hall took their tea and cake out on the terrace to enjoy the grounds, this most English of rituals has been part of life here. These days though, you needn't be local aristocracy to be served an absolutely first class Lincoln afternoon tea at the hotel.
What makes the perfect English afternoon tea? Apart from a top notch brew, it is all about the freshness of the accompanying treats. A few soggy sandwiches just won't do, which is why we insist on serving cakes and savouries expertly prepared on site and on the day. It doesn't get much better than homemade Cherry Bakewell Slices, Chocolate Eclairs and scones, served in style.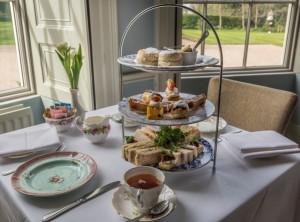 Equally though, afternoon tea at Washingborough Hall is also all about the sociable, civilised ambience of the setting. From the perfect tea for two, to a whole group of a dozen or so friends, there are few more pleasant ways to while away an afternoon. Winter visitors will love our special festive treats and a cosy space by the fire; but come to us for service on a glorious spring or summer's day and little beats stretching out on the terrace.
As for the service itself, we are always flexible to your dietary or special requirements. You could always swap the tea for a quality coffee, while we also serve special celebratory Champagne Afternoon Teas for that special occasion.
However you decide to enjoy the experience, do give us a call first on 01522 790340 because we do like to prepare enough refreshments on the day and our cakes have a habit of disappearing quickly! Take a look at our Afternoon Tea Menu for a complete list of treats to expect.
Our Lincolnshire afternoon teas are served from 2pm to 6pm, or 3pm to 6pm on Sundays. If you have someone special in mind, we also sell special Afternoon Tea Gift Vouchers to surprise a friend or family member.