REVIEW - Huddersfield Examiner
Published on 2014-12-23 / By Washingborough Hall
Huddersfield Examiner
13 Dec 2014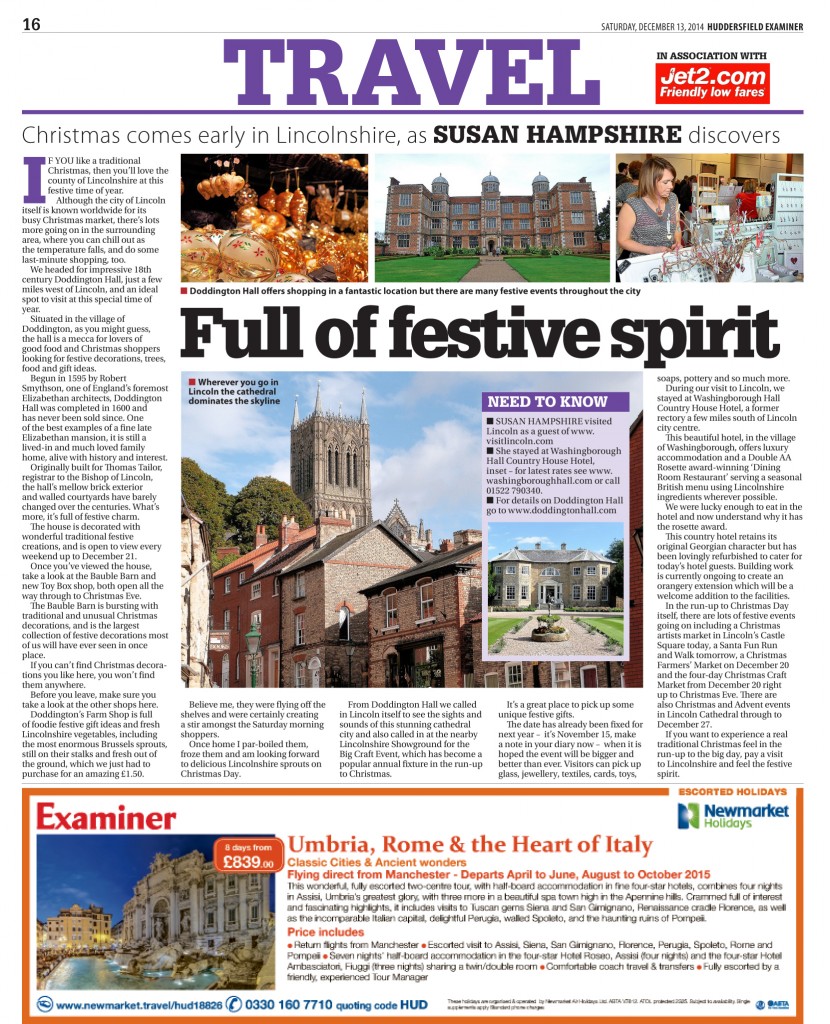 Christmas comes early in Lincolnshire, as SUSAN HAMPSHIRE discovers
IF you like a traditional Christmas, then you'll love the county of Lincolnshire at this festive time of year.
Although the city of Lincoln itself is known worldwide for its busy Christmas market, there's lots more going on in the surrounding area, where you can chill out as the temperature falls, and do some last-minute shopping, too.
We headed for impressive 18th century Doddington Hall, just a few miles west of Lincoln, and an ideal spot to visit at this special time of year.
Situated in the village of Doddington, as you might guess, the hall is a mecca for lovers of good food and Christmas shoppers looking for festive decorations, trees, food and gift ideas.
Begun in 1595 by Robert Smythson, one of England's foremost Elizabethan architects, Doddington Hall was completed in 1600 and has never been sold since. One of the best examples of a fine late Elizabethan mansion, it is still a lived-in and much loved family home, alive with history and interest.
Originally built for Thomas Tailor, registrar to the Bishop of Lincoln, the hall's mellow brick exterior and walled courtyards have barely changed over the centuries. What's more, it's full of festive charm.
The house is decorated with wonderful traditional festive creations, and is open to view every weekend up to December 21.
Once you've viewed the house, take a look at the Bauble Barn and new Toy Box shop, both open all the way through to Christmas Eve.
The Bauble Barn is bursting with traditional and unusual Christmas decorations, and is the largest collection of festive decorations most of us will have ever seen in once place.
If you can't find Christmas decorations you like here, you won't find them anywhere.
Before you leave, make sure you take a look at the other shops here.
Doddington's Farm Shop is full of foodie festive gift ideas and fresh Lincolnshire vegetables, including the most enormous Brussels sprouts, still on their stalks and fresh out of the ground, which we just had to purchase for an amazing £1.50.
Believe me, they were flying off the shelves and were certainly creating a stir amongst the Saturday morning shoppers.
Once home I par-boiled them, froze them and am looking forward to delicious Lincolnshire sprouts on Christmas Day.
From Doddington Hall we called in Lincoln itself to see the sights and sounds of this stunning cathedral city and also called in at the nearby Lincolnshire Showground for the Big Craft Event, which has become a popular annual fixture in the run-up to Christmas.
It's a great place to pick up some unique festive gifts.
The date has already been fixed for next year – it's November 15, make a note in your diary now – when it is hoped the event will be bigger and better than ever. Visitors can pick up glass, jewellery, textiles, cards, toys, soaps, pottery and so much more.
During our visit to Lincoln, we stayed at Washingborough Hall Country House Hotel, a former rectory a few miles south of Lincoln city centre.
This beautiful hotel, in the village of Washingborough, offers luxury accommodation and a Double AA Rosette award-winning 'Dining Room Restaurant' serving a seasonal British menu using Lincolnshire ingredients wherever possible.
We were lucky enough to eat in the hotel and now understand why it has the rosette award.
This country hotel retains its original Georgian character but has been lovingly refurbished to cater for today's hotel guests. Building work is currently ongoing to create an orangery extension which will be a welcome addition to the facilities.
In the run-up to Christmas Day itself, there are lots of festive events going on including a Christmas artists market in Lincoln's Castle Square today, a Santa Fun Run and Walk tomorrow, a Christmas Farmers' Market on December 20 and the four-day Christmas Craft Market from December 20 right up to Christmas Eve. There are also Christmas and Advent events in Lincoln Cathedral through to December 27.
If you want to experience a real traditional Christmas feel in the run-up to the big day, pay a visit to Lincolnshire and feel the festive spirit.