Magnificent Magna Carta Events for 2015
Published on 2015-02-11 / By Washingborough Hall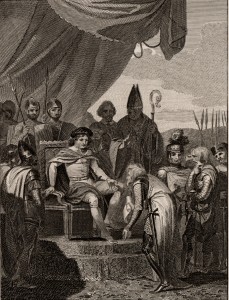 At the ripe old age of 800, the Magna Carta is a touring sensation even the Rolling Stones couldn't match in terms of age and significance. Few historical artefacts could create such a stir as this Lincolnshire treasure, whose eighth centenary is marked by grand new plans and a series of lectures and events that will thrill local and visiting history enthusiasts alike.

What makes the Magna Carta so important? In simple terms, it was the first charter to kerb the power of the Monarch and attempt to outline the rights of the individual which would eventually form the basis of modern democracy. As such it has significance not just to university lecturers or culture vultures, but to anyone on the planet with an interest in human rights. And like the Rolling Stones it has also toured America on more than one occasion.
Sealed (as opposed to being signed with ink) in 1215 by the King himself under pressure from his barons, you might have had a hard job to persuade John I that there would be a monarchy of any description 800 years later. Equally surprising however, is the fact that eight centuries later Britain still has no written constitution, but we digress.
Magna Carta Events in 2015

So where does the legacy of the Magna Carter sit in 2015? That will be a subject of lively discussion and celebration as far as the City of Lincoln is concerned this year. The book itself will be on tour across the UK until April 2015, but this is probably just as well because the builders will be in at Lincoln Castle and we know what a mess they can make of paperwork left lying about. It's all part of an inspiring £22 Million redevelopment plan set to give this priceless artefact a grand new viewing space and offer even more to visitors in years to come.
Back to the present though, a series of lively and engaging public lectures organised by the University of Lincoln will shed further light on the Magna Carter, along with fresh debate. Subjects include "Civil Rights and Women as Witches in History", "Who wrote the Magna Carter?" and "Magna Carter and the Levellers".
A packed calendar will also feature further events, including some truly unmissable diary dates for anyone with a passion for history. Here are some of the very best:

Lincoln Castle Magna Carter Experience: Grand Reopening (April 1st & 2nd 10:00-17:00): Be one of the first to see Lincoln's world famous heirloom in its new home, right on the 800th birthday of the treaty! Visitors can also take a tour of newly renovated and interactive exhibits such as the grimly fascinating Victorian prison. Further details here.
King John Returns, Lincoln Castle (May 3rd & 4th 10:00-16:30): Guaranteed to be an enjoyable step back in time, this is the chance for historians of all ages to watch the King and his barons expressing their views and discussing the merits –or otherwise- of the Magna Carter. This is no dry history enactment either, and will feature medieval swordsmen, entertainers, horsemen and more. More details here.
Magna Carter Barons' Charter Trail, Lincoln City (June 13th to Sept 14th): Join the hunt to track down 25 locally made and individually decorated statues of King John's barons. A great family way to explore Lincoln and get a taste of historical intrigue in the process! More on the trail here.
For a full programme of Magna Carta lectures and events, see the Visit Lincoln site.