Top Wedding Food & Drink Ideas
Published on 2019-05-29 / By Washingborough Hall Hotel
Luminous prawn cocktail, followed by a roast beasty—avec sad vegetables, followed by a Challenger Deep trifle. All washed down with Babycham or a pint of engine oil ("bitter"). Lush, now let's disco.
This might take your fancy, it might not. We'll go with the latter. Food and drink trends have moved on exponentially since the 70s, 80s, 90s, 00s, and even now are progressing swiftly. Wedding eats and tipple are no different, reflecting social thinking at large.
American style comfort food was big for a moment but is out (bye mac n' cheese). We're becoming more scrutinous of what we're shovelling into our mouths, drunk or not. It's about health now.
Read on for some tasty, clever, and practical wedding food and drink ideas—all of which are right up to date.
Crafty Cocktail Hour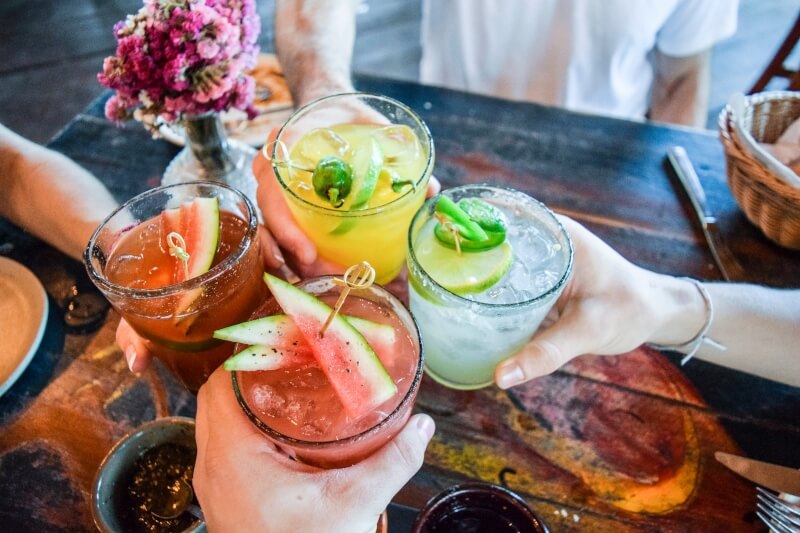 Quite literally. Craft your own cocktail stations are sweeping the wedding circuit. This isn't a table full of random spirits and mixers and free reign. It's giving your guests customisable options.
They can sidle up and get involved with flavoured syrups, fruits, garnishes, and mixers—making a mess or a success of their own cocktail bases. All part of the fun.
Yes, you Can Eat That.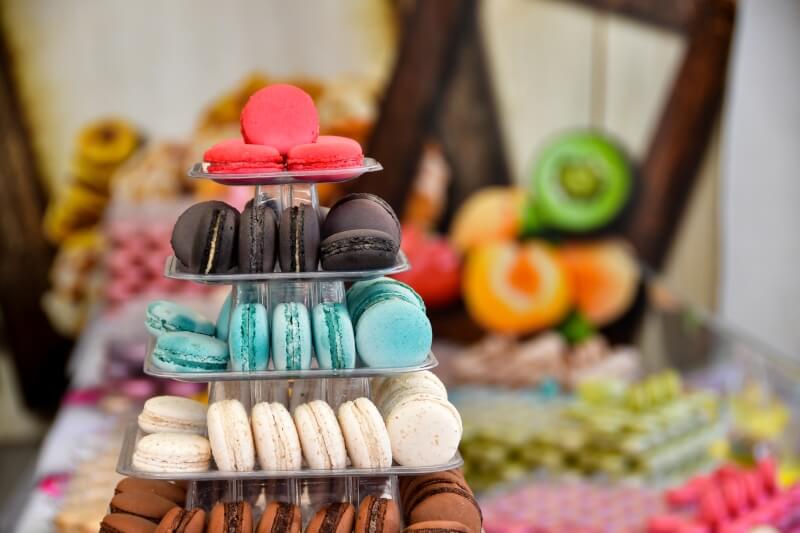 This could easily be an intricate table decoration made from artistically whittled fruit, or a donut wall.
Food art and creativity is in a golden age of possibility and can be as indulgent as you like. Another popular and colourful one is a macaron tower. Un vrai régal. A real treat.
Permit your imagination to run wild.
DIY Beverage Stations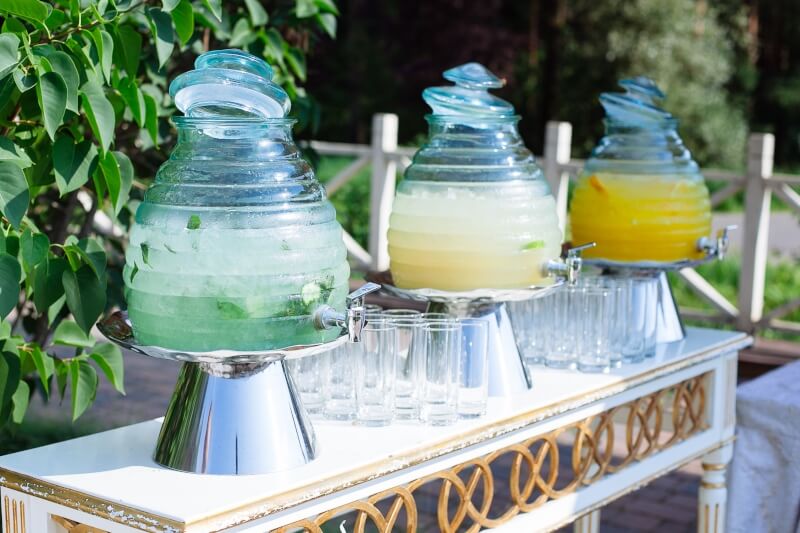 You'll see do it yourself stations are a real theme in 2019. Following on from the cocktail station, is the beverage station. Appealing to a wide range of tastes.
What about stocking it with childhood favourites, like lemon or orangeade? But instead of teeth squeaking nostalgic realism, consider low sugar real fruit versions.
Milk and cookies? Tea and coffee making facilities? There are all sorts you could include. The idea is making your guests feel totally at home.
Grazing & Dessert Tables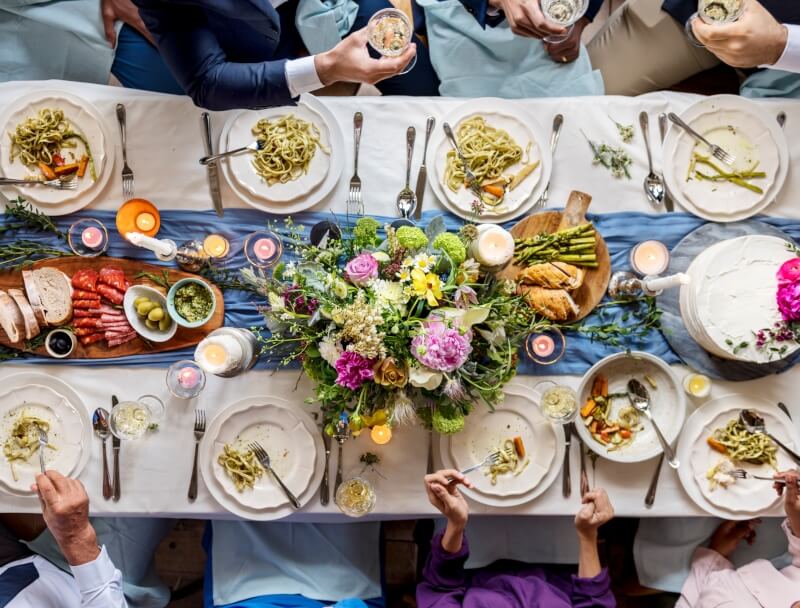 Gone are the days of wedding cake or nothing, or buffets stacked up with beige anti-food. Waiters gliding around with moist mushroom in pastry nests, and obscurely named canapés (that all taste of garlic) are a thing of the past too.
We've moved on to help yourself charcuterie boards, local cheeses, artisan breads, and fresh, organic local produce (see below).
Wedding desserts have become less formal too. Having a table with a host of fork-free, and dietary conscious (gluten free, lactose free, vegan) desserts is a way of including everyone in the dessert excitement. For example—gluten free vegan brownies.
Also, being able to take treats away keeps people engaged in their own pockets of fun.
Where Does This Come From?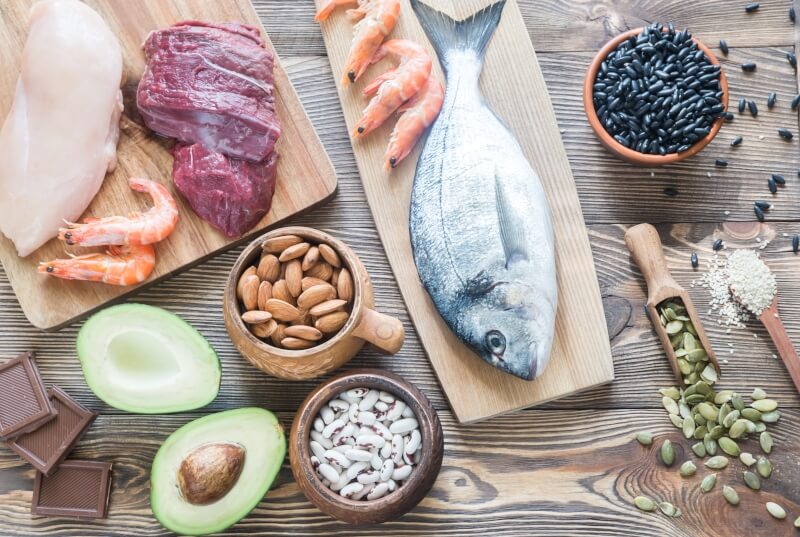 Food providence is much more than slapping a geo-tag and a backstory on a product for marketing purposes. M&S were pioneers of this.
This isn't just a sausage, it's a hand-plucked wild herb, classically exposed, thoroughbred, East Lincolnshire Wolds…101% pork sausage. Only six made, and they're in this pack.
Food providence is much deeper. It's an ethos, born from unsustainable consumerism and a rise in health consciousness.
Simply put, we're not keen on vague origins, environmentally unfriendly practices, and unnecessary food miles. We want to know exactly what we're eating, that it's as local as possible, and the passions of those who created it. The full picture.
And why not, after all, we end up eating it. When we look back through history, we'll find it strange there was a time we were oblivious or believed we shouldn't care.
Approaching your wedding in this way is a 2019 must.
Clean Comfort & Teetotalism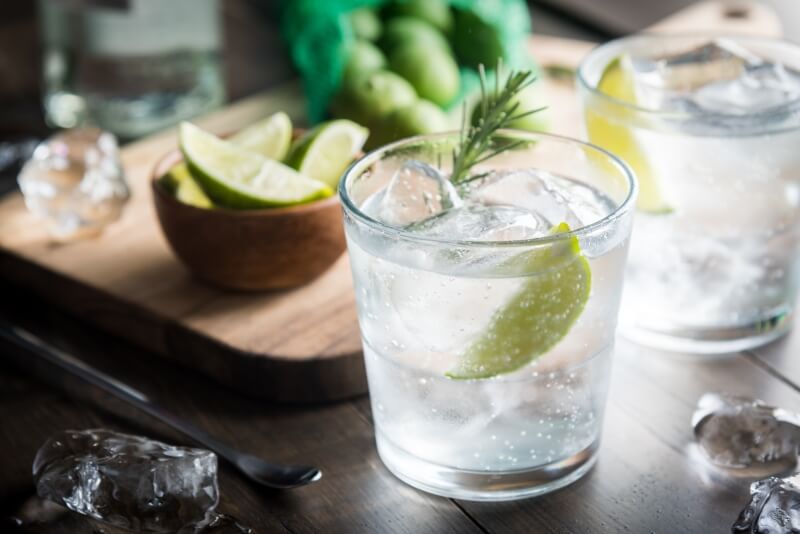 We all know about dirty comfort food. So, what's clean comfort food? Along with a staggering rise in veganism, comes a new trend. It shares a foundation with classic comfort food, with a leaner, cleaner, healthier twist.
In order to achieve the same moreish traits of our soul food favourites, foodies and chefs are becoming very creative. It's liberating for food to taste fantastic, without the guilt.
Just because you're abstaining from alcohol, doesn't mean you can't have gin. Sounds like the dubious opinion of a friend who wants company at the bar. It's true though. Some very clever companies have been developing alcohol free spirits.
The front-runner in this new wave of alt-distillation is Seedlip, with the tagline 'what to drink when you're not drinking'®
They describe themselves as "a nature company on a mission to change the way the world drinks with the highest quality non-alcoholic options." The inspiration behind it comes from a little known 17th Century book on the art of distilling non-alcoholic herbal remedies, and, three centuries of family farming in the north of England.
Our culture has customarily been a drinking one, to the extent where not drinking is occasionally frowned upon. Or considered "boring". It seems Seedlip is about to change this.
Total Vegan Wedding Menus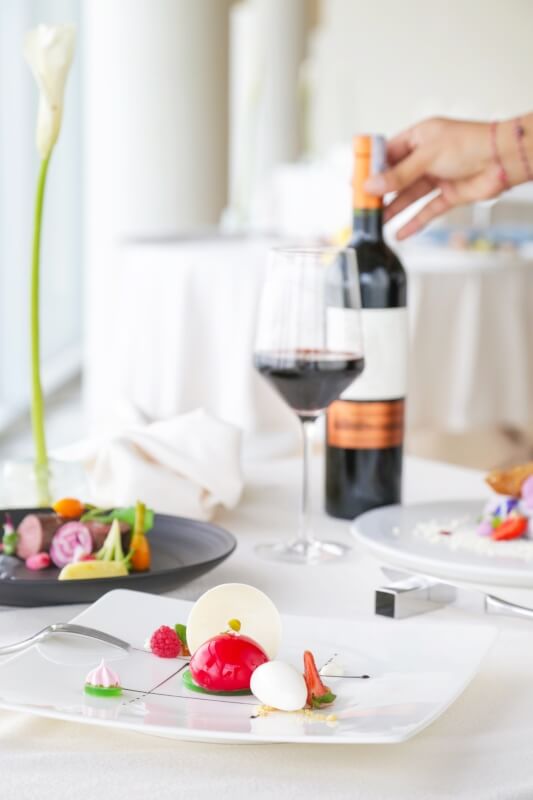 If you're vegan or vegetarian, you'll be aware how much easier it is today to live the lifestyle you've chosen. If not, know that it was once considered fringe.
Eating meat, or dairy products isn't necessarily seen as a default anymore. Veganism has taken the mainstream by force, and the variety of inspiring meat and dairy free food available from everyday places is staggering—and only set to increase.
At weddings it's not uncommon to see full vegan or veggie menus. Whilst not everyone will appreciate it (that's life), it's your wedding, and perceptions have changed enough that vegan or vegetarian cuisine is not seen as "without meat"—but respected for its own merits.
Eco Friendly Weddings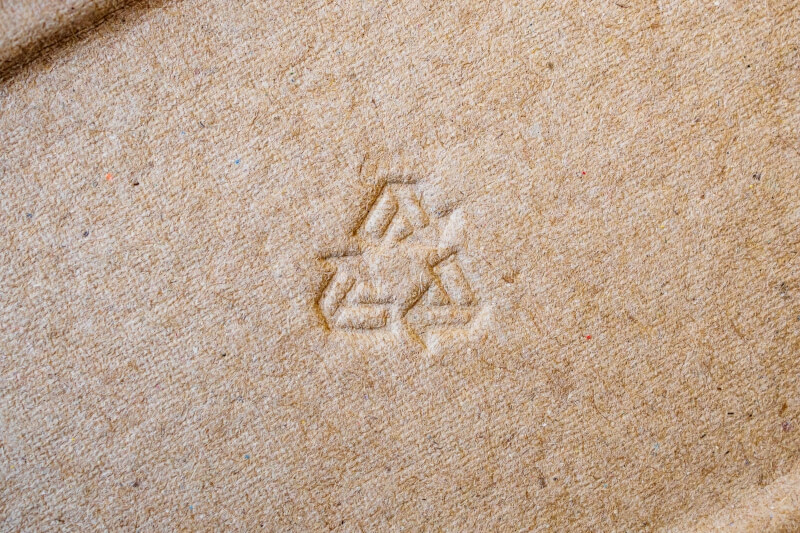 There are only so many images of deforestation, oil spills, plastic bags attached to turtles, and environmental disasters we can stomach. Enough is enough.
Making choices based on environmentally friendly products or services is not just on trend; it's the right thing to do. This includes at weddings. Usually, weddings are not eco friendly—there's a lot of food waste, disposable décor, and plastic straws and packaging. Also, any paper or card tends not to be from recycled sources.
Thumbing our nose at the environment in aid of a wedding isn't big or clever. Especially when pretty much everything needed for a wedding has an environmentally friendly alternative.
Here's an ingenious one, seed paper. This can be used for invites or place cards. It's made from sustainable sources, and woven with flower seeds—so can be planted after. This goes beyond low-impact and gives something back to the environment.
Textured & Hand Painted Wedding Cakes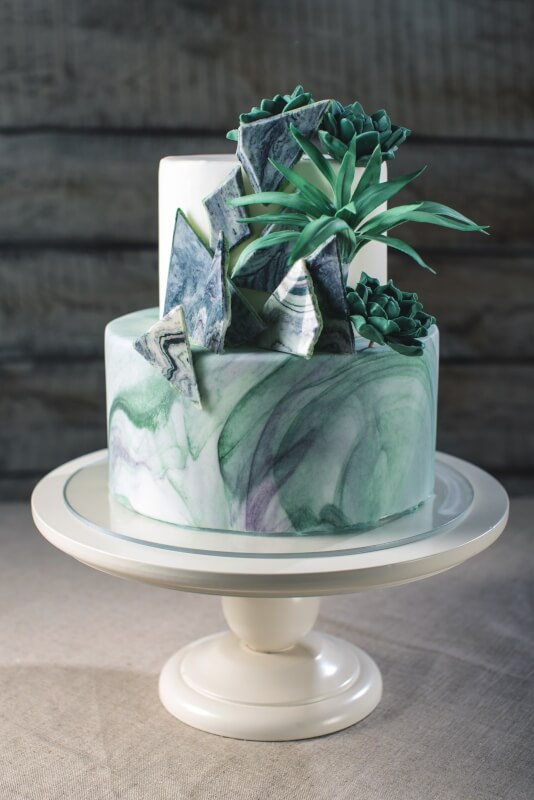 Metre thick, smooth white icing has been out for a long time. But, what's in for 2019?
Cakes with unique textures will be all the rage for 2019. It's possible to emulate all sorts of surfaces on a cake, including concrete if that's your thing, although it's likely (unless you work in the aggregates trade) you'll opt for something more romantic. What experienced bakers can do with a palette knife is jaw dropping.
Hand painting is also rising in popularity. Why not have your favourite view meticulously drawn onto your cake? The only limit here is artistic, and art has no limits.
Neither does the mind.
Wonderful Weddings at Washy Hall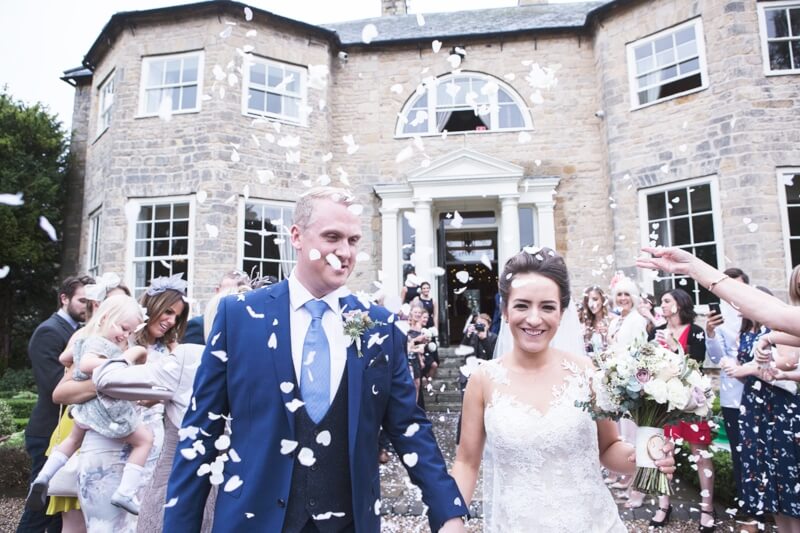 At Washingborough Hall near Lincoln we wouldn't dare prescribe your wedding for you.
We're an idyllic country house hotel with gorgeous grounds, locally sourced delicious food, and a team of passionate, experienced wedding organisers.
In other words, we are the perfect setting for your wedding dreams to unfold. We don't assume anything. Our vision is your vision. Whisper it, and it shall be so.
Our commitment to bespoke weddings has won us awards, which we don't take for granted. It'd be our pleasure to meet you during one of our open evenings, and see how we can help your unique wedding come to life.
We run wedding open evenings on the second Wednesday of every month so pop along for an informal chat. Our next open evening is Wednesday the 12th June 2019. We'd love to see you there.